info >

< studio >
Tommy Angel #1, 2006, pigment print, 91 x 122 cm
Tommy Angel #2, 2006, pigment print, 91 x 122 cm
Tommy Angel #3, 2006, pigment print, 91 x 122 cm
Tommy Angel #4, 2006, pigment print, 91 x 122 cm
Tommy Angel #5, 2006, pigment print, 91 x 122 cm
Tommy Angel #6, 2006, pigment print, 91 x 122 cm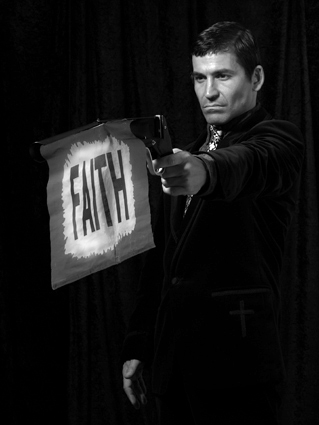 Tommy Angel #7, 2006, pigment print, 91 x 122 cm
Tommy Angel #8, 2006, pigment print, 91 x 122 cm
Tommy Angel #9, 2006, pigment print, 91 x 122 cm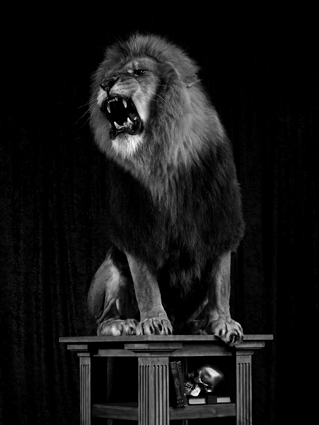 Tommy Angel #10, 2006, pigment print, 91 x 122 cm
'The preacher, the magician, and the politician are kindred spirits. Performers all – replete with the exotic trappings of their trade, bearers of secret language and gesture, theatricalised instantiations of transcendental powers – they enact their minor miracles before audiences all too eager to believe. Tommy Angel, the revivalist magician alter ego of British artist Jonathan Allen unites the range of these iconic beguilers in one unnervingly slick pulpiteer. At once drawing on and destabilizing the rituals of stage conjuring, the symbolic landscape of proselytizing evangelicalism, and the political instrumentalization of fundamentalist conviction, Angel and his snake-oil gospel pull back the curtain on the sleight-of-hand that inevitably operates behind the scenes of any organized system of belief. 'Faith' says the Bible, 'is the substance of things hoped for, the evidence of things not seen'. For Tommy Angel, the nature of faith – magical, religious, or political, not to mention artistic – is just as much about style as substance, and even the most 'reliable' evidence is made to seem as uncertain as the location of the pea in a street corner shell game.'
Jeffrey Kastner | Cabinet Magazine issue: 26 | summer 2007

'David Copperfield meeting Billy Graham via Donald Rumsfeld'

[overheard description of Tommy Angel during 1st Singapore Biennale, 2006]


'Neo-blasphemy with a twist'


Jonathan Green at Keep the Faith, Tate Britain 2006


'And what of Tommy Angel, stage magician, illusionist and burning-bible thumping "gospel magician"? Like François's deluded soapbox man, he wants us to believe in what can't be proved. Angel is in fact the invention of artist Jonathan Allen, who has cast himself in the role of gospel evangelist, with his sparkly suit and too-perfect smile. His persuasive powers are those of the stage illusionist, with his seamless patter, his boxes of tricks, his smoke and mirrors and misdirections. When I met Allen, briefly, last week, he was negotiating the hire of a live lion for a new act, in which he wished to replicate the story of St Jerome.

A number of large black and white photographs of Tommy Angel are currently at David Risley Gallery. In one, the apparently headless illusionist proffers his own head above a platter, in the manner of a self-decapitated John the Baptist. In another, he seems to be pronouncing some spooky incantation over the pages of a burning bible. He does a Piero della Francesca number with a bunch of white doves, the Holy Ghost fluttering aloft. Even his wand is in the shape of a cross. In the most alarming image, he's a ventriloquist, with a diminutive, bug-eyed, bearded dummy of Christ, replete with painted stigmata on his hands and feet. Tommy and his prop, then, as Virgin and Child. You could say that the sarcasm and perhaps blasphemy of Tommy Angel is the direct opposite of the hand-wringing gospel video art of Bill Viola. Allen straddles the professional magic world as well as the art world (in 2003 he assisted illusion designer Paul Kieve with his work for the film Harry Potter and the Prisoner of Azkaban), and appears to want to be taken seriously, or perhaps not-so-seriously, by both camps. Next month, he'll be performing at Tate Britain.
Adrian Searle | Guardian January 17th 2006

full review >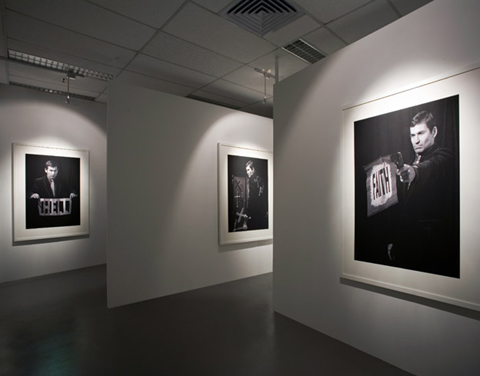 1st Singapore Biennale [2006]
Tommy Angel is a marvelous feat of illusion. Appearing on the one hand as a fictitious gospel magician in an ongoing series of black and white photographs bearing his name, and on the other as a potent zeitgeist of evangelical fundamentalism that rears its ugly head within the political landscape of our time, Jonathan Allen's artistic alter-ego is a creation of consummate disguise and conceptual conceit. And like all good disguises his influence is most potently registered through the use of images, as much as by a manipulation of them. In the case of Tommy Angel #4 (2005), the implication of such concerns is carefully layered. Set against a black-out curtain, a 'headless' performer proffers a silver platter, upon which appears to rest the self-decapitated head of Tommy Angel. In composition, the image bears an uncanny resemblance to Christian depictions of John the Baptist's beheading, particularly to those that took the form of theatrical miracles, as commonly enacted in the tradition of the European medieval mystery plays. Together these references interrogate the ways in which visual and religious truths have relied on the effects of stage-crafted illusion to illustrate information for deceptive gain. While Allen's work self-consciously foregrounds this stirring relationship, it simultaneously parodies how the potential for deception finds usage in the hands of today's evangelical preachers and crusading politicians.

In response to the historical context of City Hall and the seat of Singaporean nationhood implanted within its own maze of walls and corridors, Allen shrewdly presents our encounter with the shady persona of Tommy Angel through the darkened passages of a photographic labyrinth. Here, illusion, as it's Latin root – 'ludus' or 'game' - implies, deceptively controls the audience's movements through a space, which is in turn ordered through the gaze and entrancing gestures of Tommy Angel's image. In a related audience based-work, the narcissistic image of Tommy Angel appears as the presidential cameo on a series of bank-notes which are then planted into the pockets of a unsuspecting crowd, as part of a surreptitious 'put-pocket' performance. Through their circulation, the notes recall the calculated strategies powerfully inscribed across the histories of Christianity and magic to promote belief. Miraculously discovered in the pockets of an unsuspecting public, they also point to the omnipresent influence of evangelical intrusion sinisterly at play in the public domain.

Sharmini Pereira, Curator | 1st Singapore Biennale | Sept-Nov 2006
Exhibitions, publications & collections:
Variety, Bexhill-on-Sea, 2005/6 >
Tommy Angel, David Risley Gallery, London, 2006
Belief, Singapore Biennale, Singapore, 2006 >
Harry Smith Archive, CCA Glasgow, 2008 >
Cabinet magazine issue: 26, summer 2007 >
Blasphemy: Art that Offends, Black Dog Publishing 2006 >
Magic Magazine, Las Vegas, article Feb 2006 >

Scarecrow, Evangelos Averoff Museum, Greece, 2006 >
Party, New Art Gallery, Walsall, 2010 >
Tommy Angel was supported by Arts Council England
Photography in collaboration with Mark Enstone
All works © Jonathan Allen 2012. All photographs are © their respective authors.