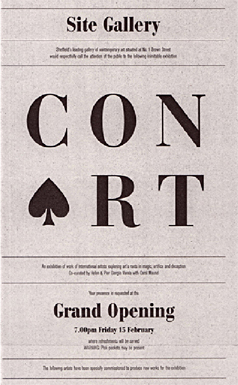 CON ART – Magic/Object/Action, group exhibition | Site Gallery, Sheffield | 16 Feb – 6 April 2002
info >

< curating > >
Con Art surveys contemporary Western art as it relates to one of the basic principles found in magic: sleight of hand or conjuring.
The works demonstrate the ways in which art and magic share a similar goal of 'cunning and conning' while casting a critical glance at everyday reality. The exhibition in particular highlights a shared premise peculiar to art-making and magic performance, the requirement of a willing viewer to agree in participating in creating illusion and deception.
Con Art explores magic and art's shared imaginations by surveying existing artworks and commissioning new works. The exhibition tests out the ways in which the rhetoric and imagery of conjuring offer a critique of representation and a model for art production and consumption. Amidst mysterious levitations, smoke-and-mirror vanishings, and close-up chicanery emerges the notion of art as a kind of perceptual sleight which sets in motion a willful play of confidences between viewer and spectacle.
Artists include: Jonathan Allen, Anna & Bernhard Blume, Sarah Charlesworth, Christian Jankowski, Ingeborg Luscher, Simon Patterson, Keith Tyson, Mark Wallinger, Aura Satz.
Con Art was curated by Helen and P.G.Varola [with Carol Maund].

'Our thanks go to Jonathan Allen, who has been pivotal in the development of this project, acting as liaison between the art and magic communities, and contributing to the curatorial direction of the exhibition. We would especially like to thanks Helen and P.G.Varola whose chance meeting with Jonathan (who introduced the Director to Helen Varola) at a magic show in Greenwich Village has led to this inspiring and intriguing exhibition.' [Carol Maund, Director, Site Gallery]
Site gallery, Sheffield, Con Art exhibition >
Site gallery, Sheffield, Con Art symposium >

Lantern Theatre, Sheffield >