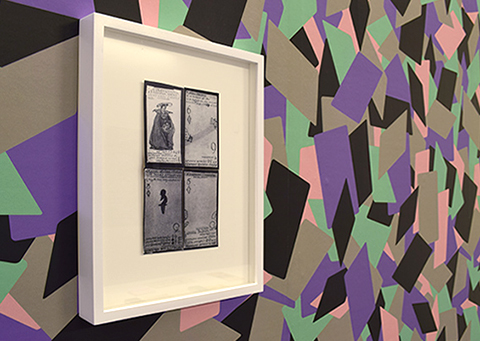 Casting for the voice of Strength | Stanley Picker Gallery, Kingston, London, 1 -3 Dec 2016.
Jonathan Allen's recently published book Lost Envoy offered the first critical readings of a previously unknown deck of fortune-telling cards hand-painted in the first decade of the twentieth century by the English artist and mystic Austin Osman Spare (1886–1956). In Casting for the voice of Strength Allen continues his reactivation of this anomalous relic of the British Occult Revival by giving voice in absentia to a card currently missing from Spare's tarot deck: its eleventh Major Arcana trump, known as 'Strength'.

Casting for the voice of Strength recalls Pietro Aretino's satire Le Carte Parlanti (1543) in which an imaginary dialogue takes place between a deck of playing cards and the cards' artisanal maker. While Aretino's cards laid bare the intrigues of Italian Renaissance social and political life, the two iconographic figures that comprise Spare's lost card – a robed woman and a lion whose jaw she gently holds – bear witness to the early modernity through which Spare's deck passed unrecorded.
Strength's repartee points to cartomancy as a productive, if contested, site of enchantment in which shifting object-subject positions encourage temporal sutures and narrative potential. At the centre of Allen's installation lies a facsimile of Spare's deck, combining and recombining contiguously at its borders as if in search of its absent accomplice.
As part of the opening event for Casting for the voice of Strength, Allen presents a live interpretation of his working scripts, developed with performers Lorna Nickson Brown and Gareth Watkins.